---
Innovation is the key to securing future funding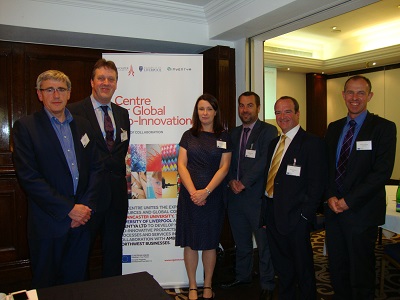 North West SMEs gathered to learn about accessing UK and EU funding, financing and intellectual property. Businesses heard from advisors from the Centre for Global Eco-Innovation, Merseyside Special Investment Fund and patent and trademark attorneys, Wilson Gunn, at an event held at Haydock Park Hotel.
Intoducing guests, the Centre for Global Eco-Innovation's business development manager spoke about how the programme has helped engage SMEs with eco-innovative ideas. The centre brings together the expertise, resources and global contacts of Lancaster University and the University of Liverpool, along with innovation and commercialisation consultancy Inventya.
"We have around three months left on the project now and have a few spaces remaining," Michael said, "By 2017 we hope to achieve ambitous targets of creating new products and services for export, enhancing the commercial performance of businesses and creating new jobs."
Carmel Meredew, Commercial Director at Inventya, guided SMEs through UK and EU funding available and how best to achieve it. "Both UK and EU grant funding is a very competitive process and so businesses must be able to demonstrate they are innovative and have the potential for high growth," she said.
"Other key points are to read through the competition rules thoroughly and really consider if your technology is within the scope of the funding. Ask yourself, what is wrong with competing technologies and what advantages does my product have over it?"
The free event was organised by the Centre for Global Eco-innovation. For more details on the project and how to get involved, contact Martin Andrews, Project Manager on 01925 607 194 or email m.andrews@inventya.com
The Centre for Global Eco-Innovation is part financed by the European Regional Development Fund.
Wed 17 June 2015