---
Centre beneficiary exhibits at Chelsea Flower Show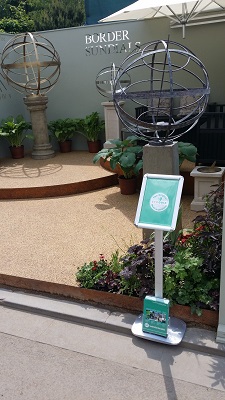 Each summer the eyes of the gardening world turn to the Chelsea Flower Show for inspiration and ideas. This year Ecogrid Limited demonstrated their Ecogrid permeable resin bound surfacing at a 5 star award winning stand RGB9, demonstrating permeability at its best. The exhibit was hugely popular with unprecedented interest being shown to the Ecogrid aesthetic and practical surface solution.
The flower show provided a brilliant opportunity for Ecogrid to demonstrate its most recent launch of resin bound permeable surface solutions to complement its already existing, well sought after grid systems for ground reinforcement.
Ecogrid Limited are benefiting from a funded internship and student project organised through the Centre for Global Eco-Innovation.
The Centre for Global Eco-Innovation is the only centre of its kind in Europe and is part financed by the European Regional Development Fund. If your business needs research help with an innovative project that could deliver economic or environmental benefit, please contact enquiries@cgeinnovation.org
Fri 06 June 2014