---
Playing Parasites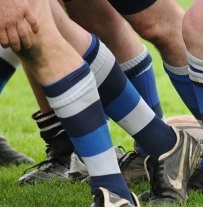 Centre for Global Eco-Innovation graduate researcher Stephanie Bryan takes a look at why rugby fans have been learning about plant parasitic nematodes.
Pests in the press
It's not often plant pathology makes it way to the back pages of the newspapers, but last month, amidst the talk of starting line-ups and defensive tactics, plant parasitic nematodes were a hot topic at the Six Nations Rugby Tournament.
Scotland were due to face England on 8 Feb 2014, but concerns over the pitch conditions at Murrayfield stadium in Edinburgh raised doubt over the ground's suitability for international rugby.
Nematode damage
The cause of the extremely dilapidated pitch was a serious infestation of parasitic nematodes, commonly known as roundworms. The soil borne creatures puncture and feed through the roots of plants, resulting in yellowing patchy turf that becomes a weak opponent against the power of 60 studded rugby boots.
The groundsmen originally reported the problem in November of last year and tried to tackle the infestation by spraying the pitch with garlic. Although the polysulphides in garlic have been found to have nematicidal activity, the nematodes were too far established, which led to the poor playing conditions in February.
The pitch was heavily criticised with many players complaining the surface is no longer fit for playing and a decision has been made to install a new £1.25 million hybrid pitch next season. Edinburgh rugby games have been relocated to nearby Meggetland stadium to save further damage to the pitch that has become inaccurately nicknamed "Maggotfield" in the press.
Global problem
Plant parasitic nematodes are not just the menace of every groundsman's nightmare, but are also a great concern in agricultural systems, responsible for an estimated 11% loss in life sustaining crops worldwide. Susceptible plants include soybean, wheat, sugarcane, potatoes along with several other economically important crops.
Many different methods have been used to control nematode populations, including broad-spectrum chemical insecticides, biological control, solarisation and natural pesticides such as the garlic used at Murrayfield. None of these methods are without their limitations and have varying efficiency.
As the demand for sustainable food production increases so too does the need for reliable sustainable plant-pest control methods.
New solutions?
My PhD project as part of the Centre for Global Eco-Innovation in collaboration with Arcis Biotechnology and funded by the European Regional Development Fund is aimed at exploring the ecological impacts of a potential new nematode control agent.
If successful, the new product will help to provide a much needed sustainable and effective nematode control for a range of agricultural and commercial applications in the future, including improving the quality of the world's sports pitches.
The Centre for Global Eco-Innovation is the only centre of its kind in Europe and is part financed by the European Regional Development Fund. If your business needs research help with an innovative project that could deliver economic or environmental benefit, please contact enquiries@cgeinnovation.org
Thu 13 March 2014