---
The Centre for Global Eco-Innovation makes finals of awards for green research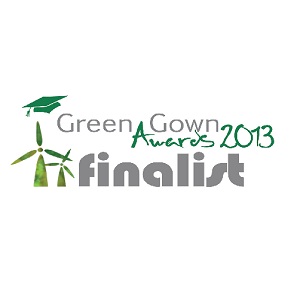 The Centre for Global Eco-Innovation has been announced as a finalist in the Green Gown Awards 2013. Now in their ninth year, the Green Gown Awards recognise the exceptional sustainability initiatives being undertaken by universities, colleges and the learning and skills sectors across the UK.
The Green Gown Awards provides universities, colleges and the learning and skills sector with benchmarks for excellence and are well respected by governments, funding councils, senior managers, academics and students alike.
With sustainable development moving up the global agenda, the awards are now established as the most prestigious recognition of sustainability excellence within the tertiary education sector, as well as the environmental sector.
There were 216 entries across 13 awards categories. 80 sustainability projects from 53 UK educational institutions have been shortlisted.
"In the face of tumultuous change, sustainability is revealing its value to the education sector. With Green Gown Award application numbers even higher than last year these sector leaders are finding new ways to build financially viable and resilient organisations which prepare employable graduates who are ready for the challenges ahead." says Iain Patton, Chief Executive of the Environmental Association for Universities and Colleges.
The centre is one of five finalists in the research and development category, which recognises research leading to better understanding and/or mitigation of environment impacts, research and development leading to the introduction of new products, and research and development with regard to social sustainability issues.
The centre unites the expertise, resources and global contacts of Lancaster University, the University of Liverpool, and Inventya Limited to create new products and services which, by virtue of their use, manufacture, raw materials, reuse or disposal, will deliver positive environmental impacts.
The winners of the Green Gown Awards 2013 will be announced at the Green Gown Awards' Ceremony to be held at The Roundhouse, Derby College on Tuesday 12 November 2013.
A list of the Green Gown Awards 2013 Finalists can be found at www.greengownawards.org.uk.
The center is part financed by the European Regional Development Fund.
Thu 11 July 2013